A yearly fun-filled family event
Many thanks to all who came out to the farm for Shearing Day held Sunday, June 5th! You all helped this event to be fantastic! On Shearing Day our three Tunis sheep, Emma, Bella and Talia were sheared by professional shearer Rick. Shearing is like giving a buzz-cut to a human head and does not harm the animal. Visitors watched live shearing demonstrations and learned about what happens to the wool once it is off the animal. Guests also enjoyed pony rides, hay rides, soap making, gem mining and of course visiting over 50 species of animals at our petting zoo here at Glacier Rock Farms.  Here are some before and after pictures from the beautiful day on Sunday!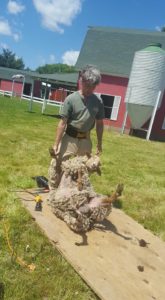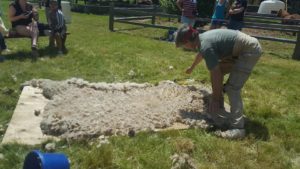 Sheep's Wool – That's a lot of wool from Emma's winter coat!